Top ABA Clinic in Kennesaw, GA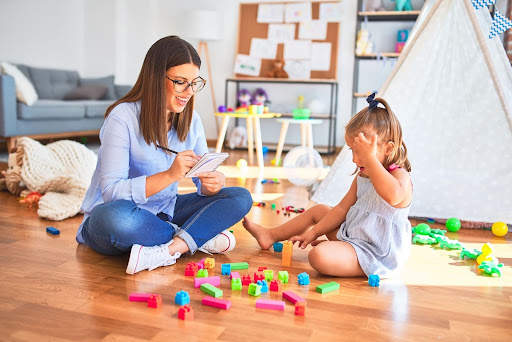 Transforming Lives and Empowering Growth with ABA Therapy
At Therapyland, we excel at providing life-changing ABA therapy for children with Autism, behavioral concerns, and other developmental disabilities. Raising children with ASD (autism spectrum disorder) is not a one-person job, and we want you to know we are here for you- and have been here for Georgia families for more than 8 years.
Offering advanced therapy services in our Kennesaw facility, our team of skilled and passionate therapists empowers your child to take positive steps forward toward a brighter tomorrow.
What is Therapyland All About?
Therapyland is about helping parents and caregivers nurture their children with Autism and developmental delays. We are committed to clinical excellence when it comes to helping your child flourish and learn new skills using ABA therapy and other proven techniques.
The Gold Standard of Care
We are proud to deliver excellent ABA therapy services to families across Georgia. Our friendly therapists offer expert treatment and compassionate child-centered care using innovative methods tailored to each family's needs.
Our highly-qualified board-certified behavior analysts possess years of experience and training in helping children with special needs. We utilize our extensive methods to improve your child's behavioral, social, and adaptive daily living skills with individually personalized programs.
Parents are a core part of their child's treatment. Our therapists partner with you throughout the journey of making your child independent by providing the necessary tools, support, and training.
Our ABA Therapy Process Your Child Directly Along the Path of Success
At Therapyland, we follow a simple yet effective process to make it easier for parents to get ABA therapy in Kennesaw for their children with Autism.
We begin with a consultation to know your child better. Our board-certified behavior analyst will ask questions about your child's behavior, learning capabilities, strengths, challenges, autism diagnosis, and more.
Individualized Assessment 
We believe in the power of individualized care. Following the consultation, our skilled ABA therapy providers conduct in-depth assessments to evaluate further the child's inappropriate behavior, social skills, communication skills, and other areas of development.
Implementation of Treatment Plan
Our team develops comprehensive and evidence-based therapy sessions with the assessment data. We leverage the principles of Applied Behavior Analysis (ABA) to design interventions that target core areas of concern.
We recognize the significance of parental involvement in a child's progress. To make ABA therapy work successfully, we offer comprehensive training sessions to parents, teaching them essential techniques they can use at home.
We take data-driven decision-making seriously. Our registered behavior technicians consistently monitor the child's progress throughout the therapy journey, enabling them to make timely adjustments to the treatment plan as needed.
Contact Us for ABA Therapy Services in Kennesaw
We understand that every parent dreams of providing their child with the best opportunities for growth, learning, and happiness. At Therapyland, we share your dreams and support you every step of the way.
Our ABA and other behavioral therapies are not just treatments but a journey of discovery and progress of your child's potential. Your child's progress is our shared success, and we take immense pride in witnessing every milestone they achieve.
Don't think you are alone in building a better future for your precious child; call us at 678-888-2932 and schedule an appointment for ABA therapy. Inquire now to know if your insurance providers cover applied behavior analysis therapy.