"Autism . . . offers a chance for us to glimpse an awe-filled vision of the world that might otherwise pass us by." – Dr. Colin Zimbleman, Ph.D.
Every year, April is Autism Acceptance Month and serves as an important reminder to recognize and celebrate the diversity of individuals with autism spectrum disorder (ASD) and the autism community. The special recognition is a reminder that everyone deserves to be accepted for who they are and that differences should be celebrated rather than stigmatized.
As we approach April, we must recognize that Autism Acceptance Month is more than just a hashtag or a social media trend. It's an opportunity to learn about autism, promote acceptance and inclusion, and celebrate the unique perspectives and strengths of people with autism, especially if you have a child with autism.
Below are some ways to celebrate autism awareness and acceptance during April.
History of Autism Acceptance Month
The history of Autism Acceptance Month is an exciting tale of advocacy, activism, and the power of community. It all started back in 1973 when the Autism Society of America declared the first-ever Autism Awareness Week. The goal was to raise public awareness and understanding of autism, a relatively unknown condition back then.
Over the years, other organizations and people that advocate for individuals with autism spectrum disorder around the world took up the cause of raising awareness.
As the autism community flourished and evolved, there was a growing recognition that simply raising awareness was not enough. Many in the community felt that awareness campaigns focused too much on the negative aspects of autism, such as the challenges and struggles that individuals on the spectrum face and not enough on creating a more inclusive world. So in 2011, Autism Acceptance Month was born.
The goal of Autism Acceptance Month is not just to raise awareness, but to promote acceptance and understanding of autism. It's a time to celebrate the unique strengths and abilities of individuals on the autism spectrum and to embrace neurodiversity as a valuable and important part of our society.
Today, Autism Acceptance Month is celebrated worldwide with events, campaigns, and activities designed to promote acceptance and understanding of autism. From art exhibits to film festivals to educational workshops, the month of April is a time to celebrate the many ways in which individuals with autism contribute to our world.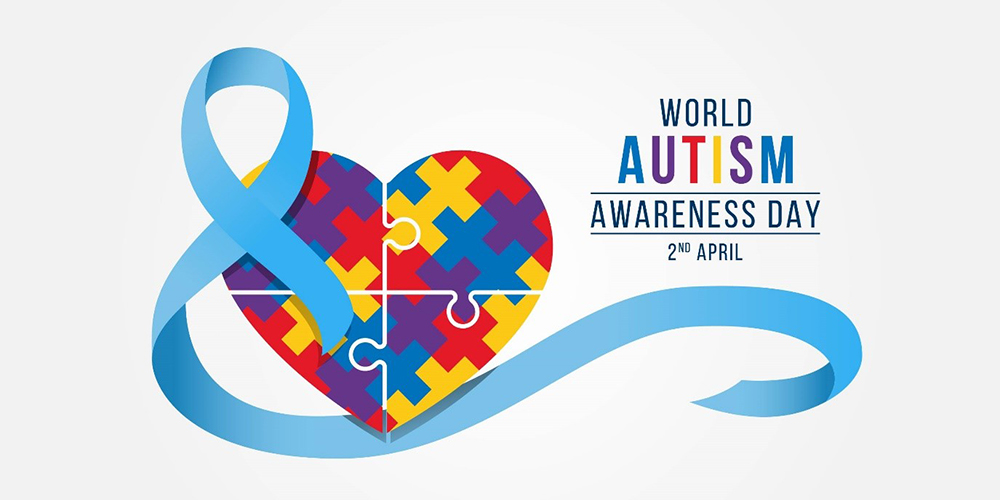 Why Is Autism Acceptance Month Important?
A child with autism needs to be encouraged to shine, and that's what world autism month is all about. It isn't just for children with autism, but for the supporting parents, guardians, and strong support system that shower all their love on their special children.
Besides offering you an opportunity to spend quality time with your little one, Autism Acceptance Month is incredibly empowering and can improve everyone's mental health while at the same time, nurturing your relationship with your child. Here are some ways this month can make a difference:
Promotes a Positive and Inclusive Message
Autism Acceptance Month promotes a positive and inclusive message about autism. The aim of having a dedicated month isn't just about highlighting the challenges and difficulties that come with the condition, but rather celebrating the unique strengths and abilities of every individual.
Counters Negative Stereotypes and Stigma
The month of April helps to counteract the negative stereotypes and stigma that can often surround a child with autism. By promoting a message of acceptance, this special month encourages parents and community members to see autism spectrum disorder in a more positive light.
Provides an Opportunity to Connect With Others
Raising a special child requires special skills, and you can learn and share these skills by participating in Autism Acceptance Month activities. There may be events, workshops, seminars, and other activities happening in your area that can help you connect with other parents and individuals with autism.
This sense of community and connection can be highly valuable and supportive in exploring new skills and developing approaches to help your child grow.
Encourages Parents to Focus on Their Child's Abilities
Children with autism are simply different, no less! Even Albert Einstein, the greatest theoretical physicist of all time, had autism. Similarly, many famous personalities have autism spectrum disorder. However, having the condition didn't take their strengths away, but instead rewarded them with unique characteristics that are widely appreciated.
Autism Acceptance Month helps parents focus on their child's abilities and support them in the best possible ways.
Ways to Celebrate Autism Acceptance in April
There are numerous ways you can celebrate Autism Acceptance in April with or without your child. Below you'll find some interesting ways that'll keep you engaged while helping you learn more about autism.
Find Local Activities
Many organizations and autistic self-advocacy network groups organize activities for children with autism that their parents can join as well. You can easily find some local activities, such as music concerts and public-awareness events, developed specifically for individuals with autism and their families.
Just a quick online search will get you information on all local events you can visit with your child to learn more about autism.
Read Books, Articles, and News About Autism
There is a wealth of knowledge about autism available, and the most engaging way to learn is by reading books and articles. Popular books like The Australian Autism Handbook and Raising Cubby, you can explore autism and learn how you can help your child live a better life.
Books and articles can teach you to be more patient when dealing with your child or someone with autism.
Watch Autism-Themed Movies or Documentaries
If you want to celebrate Autism Acceptance Month from the comfort of your home, you can watch movies and documentaries that feature autism as a central theme. Watching these films can help to raise awareness and promote understanding of autism. Here's a list of movies featuring autism that you can watch with your child.
Donate to Autism Acceptance Groups
Sharing is caring, and donating to autism acceptance groups can be a meaningful way to support individuals on the autism spectrum and their families. There are many organizations that work towards promoting autism acceptance and providing resources for families affected most by the condition.
Once you have identified a few organizations that you are interested in donating to, visit their website to learn more about their mission, programs, and how they use donations. Organizations like Autism Science Foundation, Autism Speaks, and Autism Society provide transparent information on how donations are used and the impact they have on individuals on the autism spectrum and their families. Consider what matters most to you and what impact you would like your donation to make.
» More: What Are Autism Support Groups?
Go to a Local Business That is Celebrating Autism Awareness Month
If you want to celebrate the month by contributing to the community, it's a great idea to visit a local business. Many shops and restaurants prepare special offerings or display the color blue to celebrate the special month. Your child will love to see the support while meeting new friends.
Plan a Fundraiser to Raise Money for Research
Planning a fundraiser to raise money for autism research is a great way to make a difference in the lives of children with autism and their families. However, planning a fundraiser can be challenging so it's probably best to start with choosing one focus to raise money for instead of being too generalized.
There are many different areas of autism research, such as genetics, early intervention, new therapies, and more so consider which cause is most meaningful to you. This will give your fundraiser a clear purpose and help motivate people to donate.
Once you have chosen a cause, set a realistic fundraising goal. Consider how much you want to raise and how much time and resources you have to commit to the fundraiser. A well-planned fundraiser with a specific goal is more likely to be successful.
Promoting the fundraiser is also crucial to its success. Use social media, email lists, flyers, and word of mouth to spread the news of the fundraiser and encourage others to get involved. Make sure to share information about the cause and the research that the fundraiser will support.
Share Your Own Story on Social Media
If you want to inspire other parents and guardians, sharing your own story on social media is an excellent way to reach out to a massive audience. By sharing your personal experiences, you can help others understand what it's like to live with autism or to care for someone with autism.
Try to be honest and authentic, and be sure to share the challenges you've faced, as well as the successes and moments of joy. You can also share what you've learned and the resources that have helped you along the way.
Social media platforms allow you to reach a wide audience, so consider using hashtags like #autismawareness, #autismspeaks, or #autismacceptance to make your posts more discoverable.
Wear Blue
Blue is the color associated with autism awareness, and by wearing blue, you can show your support during Autism Acceptance Month while encouraging others to participate. Additionally, you can start conversations with others about autism and the importance of acceptance and inclusion for individuals on the autism spectrum if they ask you about the color you are wearing.
There are many ways to wear blue, from simple blue shirts or accessories to more elaborate costumes or outfits. You can also encourage your friends, family, and coworkers to wear blue to show their support for autism acceptance.
Use Blue Lights in Your House
Just like wearing blue color, you can incorporate blue in other ways. You can shine blue lights in your yard or around your house to celebrate Autism Acceptance Month. If you have a child with autism or if there are special children in your neighborhood, it will help you create a community that cares for individuals on the autism spectrum disorder.
Popular landmarks switch to blue lights during April as well. Plan a visit to popular monuments and landmarks with blue lights to spread awareness about this special month.
Check Out the Work by Famous People With Autism
If you truly want to encourage positive behaviors for individuals with autism, there is no better way than checking out work by famous people with ASD. Here's a list of famous personalities and what they do:
There are many talented individuals who serve as role models and advocates for the autism community. You can read and share their stories in your community to spread awareness about this month.
Participate in Online Events and Webinars
Many organizations and advocacy groups organize special online events and webinars during Autism Acceptance Month, and you can join them to explore something new. These events give you a better insight into ASD and how you can deal with someone with autism. You can also build a community as you connect and grow with other parents and community members.
Patronize Large Businesses That Embrace Neurodiversity
There are plenty of businesses that actively hire and accommodate individuals with autism. When you support and patronize these businesses, you are helping to create job opportunities and promote acceptance and understanding.
Some businesses may have specific programs or initiatives in place to support neurodiverse employees, such as job coaching or accommodations for sensory needs. Others may simply have a general culture of inclusivity and acceptance that welcomes individuals of all abilities.
When choosing where to shop, eat, or do business, look for companies that have a track record of supporting neurodiversity. You can also research and support local businesses that are run by individuals on the autism spectrum or that actively hire and support neurodiversity employees.
Some of the larger businesses include:
Walgreens
Microsoft
Home Depot
Ford
AMC
There are many other businesses and organizations not on this list. Do a little research to discover more!
Be Kind
Being kind shouldn't be specific to Autism Acceptance Month, but try to be kind throughout the year because individuals with special needs deserve our kindness and love. Begin with taking out time to listen to a child with ASD about their experiences.
Showing empathy and understanding their experiences can help you nurture a community that allows these special individuals to thrive.
Join the Autism Revolution: Experience Therapyland's Services
Spending time with vocational training therapists and autism experts is the best way to learn about Autism Acceptance Month. Therapyland gives you the environment you need to dive deeper into ASD and how you can build a strong connection with your child.
From community events to parent training, we celebrate the month of April with full enthusiasm and a lot of activity. By attending these events, you can also learn more about the therapies we offer and how they can benefit your child with autism or other developmental disabilities.
Embrace differences and celebrate diversity – it's Autism Acceptance Month! Let's also celebrate the progress that can be made with therapy and promote acceptance and inclusion for all individuals on the spectrum. Contact Therapyland today to learn more about how we can help your child thrive.